Just a word: Don't worry I haven't quit. When I first started working this summer I was neck deep, but now I'm only waist deep which feels a little bit better. I've just been doing so much photoshop and post preparations. For fun, I went ahead and joined Instagram just to get used to things. More work to be done, but I can pop in here a lot more.
Recently, a list came out of the wealthiest person per state. Another one was released prior to that of the wealthiest families in America. When I see this type of money, the thought crosses my head, "What would I do with all of that money?" What would you do? The Zuckerberg's announced a large gift donation to the California education system of 300 million dollars. William Koch decided to spend his money on consumer protections for the wine industry. Bill Gates has decided to spend a good portion of his money on the distribution of the polio vaccination. My mother says that she would set up a fund for braces and accutane. Having taught in the schools, she has seen a great need for these forms of cosmetic appearances to be met. I think I would start out supporting a charity that's already there, and I know just the one.
This is supermodel Natalia Vodianova, she has a charity that I think is my absolute favorite/favourite. You see, it is a charity that is very simple, but can really change the world: Parks for children. If I was one of the wealthiest people in the world, I would most likely live in a small attic, surrounded by precious works of art, and just go nuts building and designing park after park for kids. The thought of a McMansion or fancy car just automatically deadens my synapses. I refuse to feed that wretched ape brain, well maybe, just a little bit. Families need parks to be accessible, a park should never really be three blocks from their home, or much of a jaunt to attain. Imagine, one could build an Abe Lincoln park, a Goya park or a Michael Jordan park. Children need parks. They don't have to be super big, just a nice neighborhood park. When home developers build communities now they have found that the real draw for families is park accessibility. Most have started putting a park in along with the homes being built. They aren't exclusive or off limits, but developers have found this to be huge for families.
The Naked Heart foundation builds parks all over the world. They take applications where there is a need for parks, and the sad thing is, there is a need. When we lived in Utah, especially in Salt Lake, I noticed an absence of parks. There were streets wide enough for gas guzzling suv's, but sidewalks not wide enough for strollers. If "The Lion", Brigham Young were around today, I would have no problem quarreling with him over that one. For a place where there's supposed to be an emphasis on children and the family, it almost seemed the opposite. An LDS meetinghouse is good for three hours on Sunday, but it provides no park for a child to play on, no slide to go down, or swing to swing on. Salem, Oregon has over 1600 acres of parks and Salt Lake has 925 acres. Salem has 42 percent more parks, than Salt Lake. We want a culture in this country that encourages a childhood, not one that discourages it. Parks create routine and structure, and where there is routine and structure, wealth tends to follow. Where is the grandparent brigade calling for parks in Utah?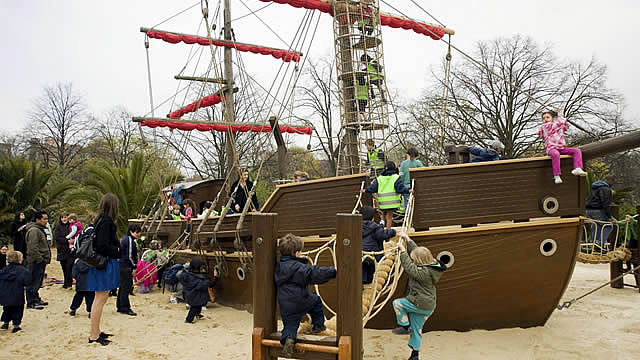 I've always thought this was the loveliest tribute to a person possible, a park. A park not only for children, but running trails for adults too. This one is in homage to the late princess Diana, a Peter Pan themed park.
Here we have the Ralph Klein Park in Calgary. My brother can still remember the day Ralph Klein came and gave them a new park at their elementary school.
Perhaps the most famous park is Central Park. But still, it can be a real trek to get to, I can't imagine doing that on a daily basis with my children. The hot trend in cities like New York are built in play spaces; slides and swings right in the living room. I completely agree with this. Children need to play. There are not enough parks in New York, Paris or London to my liking. You can give me all the art in the world and operas, but without parks or beautiful hikes to go on, I turn up my nose. Sure people have to live and work in New York for their job, but I cannot say that the quality of lifestyle is high with such an absence of green space. Answer me that one Anna. It isn't that I hate it, but it is just not the most ideal city for children.
One of the first things the Obamas did after moving into the White House, was have a park put in. I really hope that whoever the next president is, they keep it there. No need to get political over a park (fingers crossed).
With the nation's obesity epidemic continuing to climb, it would be a good idea to get some more accessible parks in this nation. The obesity is a heavy tax upon us all. I would bet that where there are high obesity rates, in certain cities, park accessibility is low. The above is a picture of Adele playing at a wonderful park in Orem. A tall fence was around it to stop kids from being hit by a car. You can have all of the precious art in the world, but the art of a wealthy lifestyle has the real value.
wikipedia
I'm sure the Mona Lisa would give her biggest smile yet.